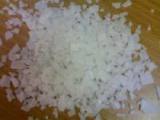 Castor Oil Derivatives
Product Description
The consumption of castor oil and derivatives is increasing year on year as these are used in industries for the production of medicinal products, skincare products, detergents, hair care products, lubricants, coatings, etc. Our company Kisan Agro Product Industries can supply you all castor oil derivatives in the form of white flakes in large amounts. The flakes can be melted in clear transparent liquid, that is non-hazardous and nontoxic. Interested customers can contact us anytime. They can send us inquiry regarding the product and our personnel will quickly respond and provide further details about the castor oil derivatives, such as acid value and saponification value.
Castor Oil Derivatives Technical Details:
Appearance : White Colour Flakes
Acid Value : 175 Min.
Iodine Value : 3.5 Max.
Melting Point : 75C Min.
Saponification value : 180-190
Hydroxyl Value : 155 Min.
Colour Gardner (G) : 5G Max.
Moisture : 0.5 % Max.